SPRING 2013 AVAILABLE PLANTS



FIG VARIETAL INFORMATION
BANANA VARIETAL INFORMATION


FIGS
One gallon plants.

Some of these are ready now, but many will have to wait for shipment in the fall.
We will be adding to the list in the weeks ahead.

143-5
187-25
278-128
327-1
Aama
Adriana
Adriatic GB
Adriatic JH
Aida
Aked
Alma
Anna
Atreano RR
B Mad 001
B Mad 002
B Mad 006
B Mad 008
Banana AR
Beale FN
Bianca Calabrese
Big Al
Black Bethlehem
Black Ischia AD
Black Mission FNR
Black No. 1
Blue Celeste JN
Blue Giant
Bourjasotte Gris HC
Burgundy 3
Calvy
Camuna Small Black
Celeste GM
Celeste IS
Celeste JN
Celeste UC
Celeste WS100
Celestial DW
Champagne
Colorado Blanco 4
Colorado Blanco 6
Coronado 1144
Coronado 2134
Cosenza
Cuban / Havana
Cucumber
De la Reina
Desert King - Pescadero
Desert King PNW
DFIC 0164-1
Double Header
Egyptian Brown
Emalynís Purple
Encanto
Encanto Honey
Encanto Red / B Mad 005
Falls Gold AD
Fico Santo
Figgie JP
Figo Branca
Figo Preto
Figoin
Florentine
G-27
Giant Amber
Giant Celeste
GM-11
GM-12
GM-14
GM-15
GM-25
GM-8
GM-8/9 Tag Says GM#9
GM-9 Oakland White
Golden Celeste CI
Gonsalves #1
Good Leaf
Greer RM
GT-1
GT-10
Guilbeau CI
Hardy Chicago SX
Honey Delight / Uncle Corky's
Italian 215
Italian 358
Italian 88
Italian Purple
Jarrah
Jose #0
Jose #2
Jose #3
Jose #5
Jurupa DP
K-6-5
Kadota FN
Kalamata Black BC28
King FN
King UC
La Prima MF
Latarolla
Leaky Honey
Len
Long Yellow
LSU 156
LSU Black
LSU Gold
LSU Scottís Yellow
Marseilles VS
Martin's Italian Unknown
Maryland Berry / Br Turkey MD
Meade
Mediterranean FN
Narragansett 5334
Negronne FN
Normanís Yellow RR
Old Brooklyn Italian EB
Osborne Prolific GE
Panache
Pananas Greek JP
Patrickís Super Giant
Pelopenesian Green
Peter's Honey FN
Polacci
Portland 4
Potsdammer
Purple Smyrna AD
Qila Saif RK/AF
Reverse
River Road
Roma Nera
Saint Anthony FN
Saint Rita ??
Salce SX
San Giovanni
San Pa---
Santa Barbara 8153 Dark
Santa Margherita FN
Saratoga
Scott's Black
Seedling Pot Middle
Small Green Red FN
Smith JP
Strawberry Verte
Sucrette
Tonyís Black
Troiano Calabrese
UCD #2
UCD #5
Unknown BC AF
Unknown EB
Unknown Italian White SX
Vacarro
Ventura AD
Ventura JP
Violette SM
Vista
White Greek RK
White Kadota
White TDH
White Triana
Willow Street
Zidi

Dave Wilson 5 Gallon, for pick up only.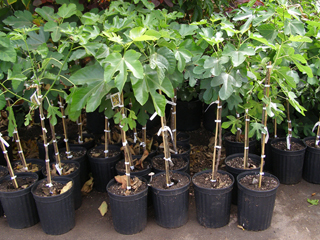 Celestial
Conadria
Desert King
Excel
Flanders
Janice
Panache
White Genoa

- - - - - - - -

Other 5 Gallon, for pick up only.

Bajtar
Beale
Black Mission O11 (VdB)
Blue Celeste JN
Cawla
Celeste PM
Chrisí Purple
Coriacea
Desert King JN
GM-8
GM-12
GM-13
GM-14
Golden Seeldess
Good Leaf
Hardy Chicago
Honey Delight
Italian Honey
Italian Unknown 1/10
Macauley
Magnolia
Martinís Italian
Mission SM

BANANAS
For bananas, please e-mail a list of varieties you are seeking and we can check current inventory.

Currently, all banana plants are fresh-dug, as available.

Apple / Manzano
Apple, Hawaiian (M)
Belle
Cardaba
Cocos
Dwf Brazilian
Dwf Orinocco - see Malango
Golden Aromatic
Goldfinger
Ice Cream
Lakatan
Malango
Misi Luki
Mona Lisa
Pisang Ceylon
Praying Hands
Rose
Saba
Thousand Fingers
Tomoc


OTHER FRUITS
We also have Pakistan Mulberry, Ice Cream Bean, Cherimoya (Pick-up only), Sugar Cane, Red and Green, and an occasional Passiflora.

WANT LIST
We have also started a "Want List". We try to give it priority when plants become available.